Learn English with the British Council and Premier League
Jack Radford & Rich Moon
Osobní rozvoj
This week - Football Phrasals 6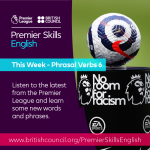 Welcome to
This Week
from
Premier Skills English
, a weekly review of football action for learners of English from across the globe. In
This Week
, Rich and Jack talk about the latest action from the Premier League and have lots of
football English
for you to learn.
On the Premier Skills English website, there's a page for this podcast with the transcript and a task for you to do in the comments section. You can find the lesson page on
Premier Skills English > Skills > Listen > This week: Football Phrasal Verbs 6
Popis podcastu
The Premier Skills English podcast is a part of a project from the British Council and Premier League for people who are learning English and love football. If you want to know more visit the website https://britishcouncil.org/premierskillsenglish, or get in touch at premierskills@britishcouncil.org.