Duolingo Spanish Podcast
Duolingo
Osobní rozvoj
El perro que protestó (The Dog Who Protested)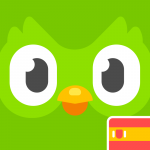 María Campos falls in love with a stray dog who has a knack for leading protests — and becomes a global symbol of unity and strength in Chile's historic social uprising.
A transcript of this episode is available at podcast.duolingo.com.
Popis podcastu
True stories for English speakers learning Spanish. From the makers of Duolingo, the most popular language-learning app, comes a new podcast that delivers fascinating real-life stories in easy-to-understand Spanish with English narration. These are not language lessons; they're life lessons through language. Hosted by Martina Castro, co-founder of NPR's Radio Ambulante.