Business Leaders
Right Angles
Byznys
Business Leaders - Eric Collins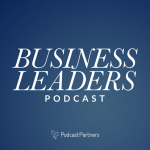 Eric Collins is co-founder and chief executive of Impact X Capital Partners, and host of Channel 4 TV show, 'The Money Maker.' Founded in 2018, the venture capital firm invests in under-represented innovators across Europe covering the technology, health and entertainment sectors to guide them with industry experts and strategic resources. Before this, Eric worked for a variety of different companies including; AOL, TimeWarner and most recently, Touch Surgery as their COO. In this in-depth conversation Eric describes his career journey to-date, his mission to use business to create an impact and ensure social justice is at the core; discusses founding his business Impact X, and explains how they find the correct candidates and companies to invest in, focusing on encouraging diversity and aiding unsupported teams; and shares insight into his role in 'The Money Maker,' concentrating on transforming teams impacted by COVID-19 and helping them grow their business.

Editor's note: this interview was recorded before the name for Eric's new TV show was finalised as "The Money Maker."  In the recording it is referred to as "The Profit" which was its original production title.
Popis podcastu
Business Leaders brings you extended one-to-one interviews with the key people in global business today. Hosted by Paul Blanchard, each week you can step inside a new company and hear how the world's top CEOs, founders and entrepreneurs are shaping the future of global business in the 21st Century. Find out the secrets of their success; how they challenge the status quo, turn companies around and build some of the world's most innovative businesses. Share their insights and find out what makes our most successful leaders tick.